Bowmanville Legion Pipe Band in 1951
Band 1951

Back Row: Brian Parkin, Jim Essex, Jim Martyn, Jim Taylor, Don Anderson, Andy Stark, Mel Hawley

Middle Row: Don Brooks, Ral Abernthey, Arnie Hart, Dave Pollack, Art Brooke, Bill Colville, Harry Conners,

Front Row: Doug Bloke, Glen Thertell, Roy McNab, Bob Lockhart, Jack Stark, Al Fletcher, Bob Dunbar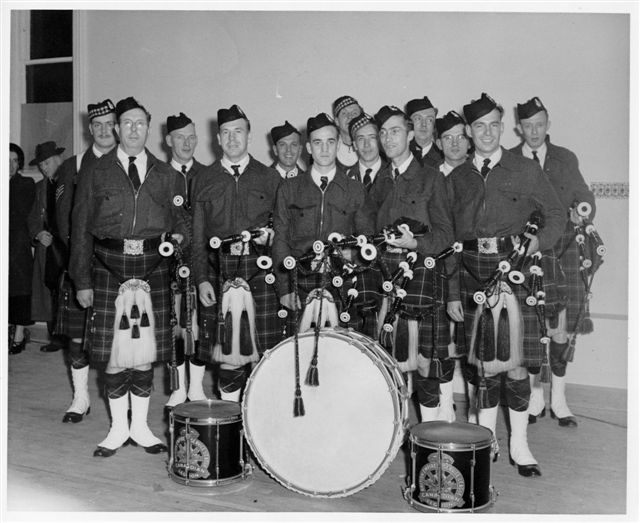 Band 1951 Air Force Jackets before full dress
Jim Essex, Doug Bloke, Al Fletcher, Bill Colville, Harry Conners, Bob Lockhart, Jim Taylor, Grant Thertell.
Glen Thertell, Don Anderson, Ray Abernethy, Don Brooks, Dave Pollock.
If anyone has names of band members, history, pictures to submit we welcome your input.
"Legion Pipe Band Rapidly Gaining Outstanding Reputation"
Seated Left to right:
Rae Abernethy, Lou Lyle, Bob Hildtich, kneeling: Dave Pollock, Arthur Brooks, Bill Colville, Don Brooks, Harry Connors, Cpl. Roy McNab
Standing: Pipe Major Doug Blore, Drum Sgt. Jim Essex, Andy Stark, Arnie Hart, Al Fletcher, Don Anderson, Jim Taylor, Marvin Thertell, Grant Thertell, Glen Thertell, Mel Hawley, Jim Martyn, Drum Major Jack Knight.